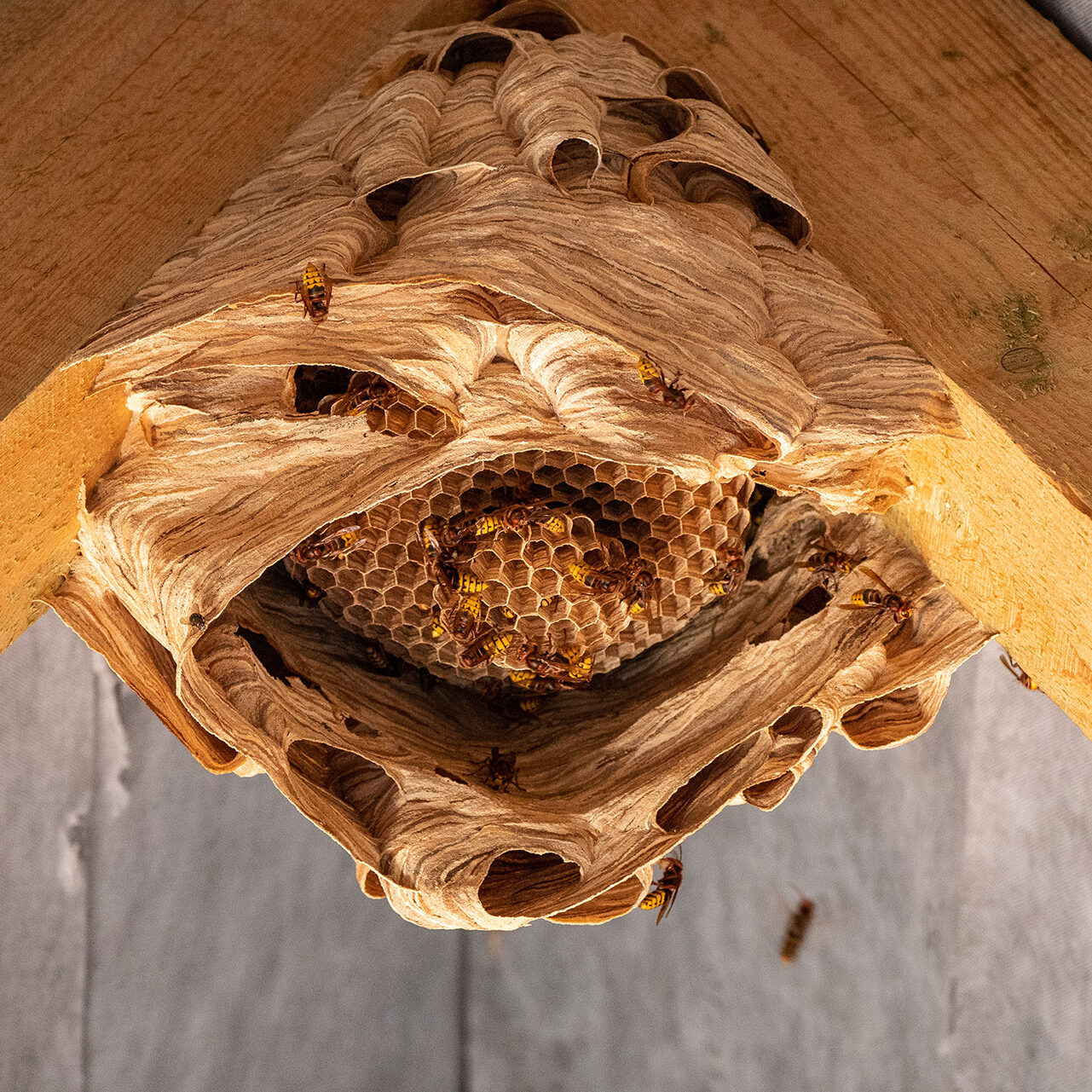 Do You Have a Bee or Stinging Insect Problem?
The Bee Hunter of Massachusetts will safely remove wasps' nests and other stinging insects from your property. If you have unwanted bees, wasps, hornets, or other stinging insects that are endangering your safety and peace, call The Bee Hunter of Massachusetts. He will safely remove beehives, wasps' nests, and other stinging insects from your property.

The Bee Hunter of MA is a bee control and wasp removal company, locally owned and operated by Rusty Dillon, aka The Bee Hunter, who is fully certified and insured in bee extermination practices.

The Bee Hunter specializes in safe and humane bee and wasp removal, effectively ridding your property of stinging insects. Our Natick, Massachusetts-based business provides complete residential and commercial protection from bees, wasps, hornets and yellow jackets. We are a family-owned company that's dedicated to providing you with the best possible service at reasonable prices.

Learn more about The Bee Hunter of Mass and see my complete list of bee control services in Mass.
LEARN MORE
BEEHIVE AND NEST REMOVAL
Bees, hornets, yellow jackets and wasps can build nests inside your home and make it unsafe for you to live there. Through a rapid response and removal system I can quickly find and eliminate colonies of insects and their nests.
BEE CONTROL
To remove bees or wasps, I employ a rapid response system to locate and eliminate them. The majority of insects die instantly, and the ones that don't succumb within a few days. I warrant in writing that they are gone. If they return, so will I!
BEE & WASP PREVENTION SERVICES
I can help keep bees and stinging insects out of your home, barn, tool shed or business by applying a bee prevention process.
24/7 Rapid Response and Removal
To Get a Free Estimate on Removing Unwanted Bees or Wasps, Please Contact Rusty at 508-471-6437
CALL NOW
Customer Reviews & Testimonials
Our customer testimonials are genuine and show a wide range of experiences. We don't cherry-pick the best reviews or omit the bad ones — they're all here.
Kerri McArdle
October 23, 2022.
We have been using Rusty and his services for years now. He and his team are so friendly and professional, and we haven't had any bee or other flying insect issues since working with Rusty. Highly recommend!
Tamara Hampson
October 19, 2022.
I called in a panic because I had dozens of yellow jackets appearing in my living room. He was very kind and was able to set up a time that same day. He showed me the heat sensor of the nest inside my wall, discussed all options and was able to take care of them right away. Very reasonable price and excellent customer service. I would highly recommend Rusty to anyone looking for help with hornets and bee's.
Katy Monaco
October 2, 2022.
Excellent! First off the communication was superb. I heard from him right away and he fit me into his schedule sooner rather than later. Much better than other company's I heard from. Next, the services were top notch. They explained everything and were quick about it. Lastly, it worked! No more bee issues. I would highly recommend for your extermination needs.
Meghan Goder
September 26, 2022.
Rusty was able to come out quickly, explained the process clearly, contained the area so our plants and other pollinators weren't affected, and was very reasonable, especially compared to a few other quotes we got. I also liked that he would come back for no extra charge if the yellow jackets weren't gone after a few days, although that didn't end up being necessary.
Mo Masterson
September 26, 2022.
Incredibly knowledgeable, honest business, excellent work. We had a wasp infestation that ended up in our son's room. It was end of season (we had no idea). Rusty could have charged us a thousand dollars, he came in and taped off the hole and said the wasps would naturally die in a week. We asked if we could pay him, and he said no- but if we could consider him for next year. We've worked with him and his team on two properties, they guarantee their work, arrive on time, are kind and thoughtful to our farm animals and dogs, and wonderful explaining things to our kids, and they work on our schedule to offer little no interruptions to our daily needs. They are honest, thoughtful and great at what they do- we cannot recommend them enough!
Daniel Coes
September 24, 2022.
We've used the Bee Hunter for two years now after the summer of 2020 brought a seemingly never ending parade of wasps trying to build nests under our deck, in the eaves of the house, in outdoor lights, in our side view mirrors, etc. We've had the preventative spray around our house each of the last two springs, and have only seen dead (or soon to be dead) wasps ever since. It's remarkably effective and well worth the price. Rusty is also easy to work with, prompt, and responsive. One other thing - we first called the Bee Hunter in the fall of 2020 because we had wasps congregating at the vent for our attic. We assumed there was a nest and would have paid anything to remove it as it's above both kids rooms. Rusty came out, checked the attic, found no nest, told us that this was normal fall behavior for wasps, and we should just do the spray in the spring. Didn't charge us a thing, earned our business for as long as we own this house.
Eric Roux
September 24, 2022.
Arrived on time, explained the procedure, and got the job done quickly and thoroughly.
Not All Bees Are Bad!
Bees are not all bad. Please read my Things You Should Know About Bees page to learn more about the many ways in which bees are beneficial to our world and human society.
THINGS YOU SHOULD KNOW ABOUT BEES
CONTACT THE BEE HUNTER OF MA
The best way to contact The Bee Hunter is always by phone or the request form below!
The Bee Hunter is available 24/7.
Contact Info:
Metrowest Location:
841 Worcester Street, Suite 226
Natick, MA 01760